"V.I.P. EMAIL CLUB" Price List

Our pricing structure is simple. For any month you are in service: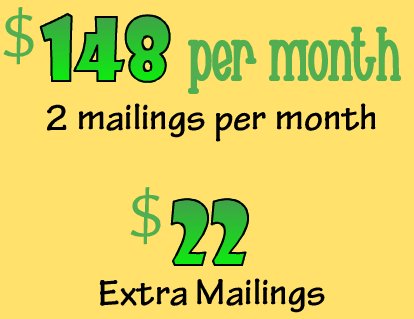 Plus $49 one-time setup and activation fee per location in your first month
HIGH VOLUME PRICING (Maintenance)
| | | | | | | |
| --- | --- | --- | --- | --- | --- | --- |
| Total Members* | 501-1,000 | 1,001-2,500 | 2,501-5,000 | 5,001-10,000 | 10,001-25,000 | 25,001-50,000 |
| Additional Monthly Fee | $19 | $40 | $65 | $95 | $175 | $270 |
Monthly Price includes:

Professional lead box to collect signup slips
Full color sign customized with your business name and monthly drawing prize
Professional coil pen attached to box
Unlimited signup slips as needed
Up to 2 color restroom signs customized with your business name and monthly drawing prize
1 double-sided color door sign customized with your business name and monthly drawing prize
Dedicated & managed email address
Dedicated & managed voicemail number
A list of 24 suggested avenues to help you promote your Email Club


Each mailing period: creating an HTML email message
Each mailing period: sending an HTML email message to each member, personalized with their name
(coupons can also contain their name if desired)
Monthly: picking up filled-in signup slips contained in box**
Monthly: data entry of new names & email addresses**
Monthly: a consultation to determine the following month's offer(s)
Monthly: random drawing of one new active member as a prize winner and sending notification and
instructions to the winner
Available at any time by request -- a monthly report containing:
- all Club member names & email addresses
- which members opened the email and how many times they did
- which URL's in your email were clicked on the most, driving traffic to your website
- any changes to member info
- which member won the monthly prize (this will also be emailed to you separately each month)
Available at any time by request: all the filled-in signup slips returned to you
Replenishing blank signup slips as often as needed
Managing customer database (keeping names updated, handling unsubscribe requests, etc.)
Managing your dedicated V.I.P. Email Club email account and forwarding correspondence to you
Secure internal back ups of your database and also on external equipment


Do you already have a customer email database?
We'll work up a special discounted rate and arrangement for integrating them into your V.I.P. Email Club program.

Does your business have more than one store location or do you own more than one business?
Take advantage of our Multiple Location Discount! We'll work up a special deal for you. For multiple locations of the same business, the price will be based on whether we will be emailing to separate customer lists, making separate offers to each, how signup slips will be collected from the other location(s), etc. For multiple separate businesses, the price will be discounted simply because we want to thank you for the extra account.


A-La-Carte Options (add to above prices)
~ Designing a simple graphic header for your HTML emails if you don't have a company logo -- $21.95
~ Customized standard signup slips (our slip with your business name, choice of paper color, extra text, etc.) --
$5 per month
~ Fully customized full color signup slips, designed from scratch -- price varies by style
~ **An extra pickup of signup slips and data entry so new members can be included in mailings sooner -- $14.95
~ Customer Satisfaction Survey – price varies by size & style
(example ... up to 20 questions: emailable survey $40 or online survey $55)
~ Extra Lead Collection Boxes (rental) -- $17.95 each
~ Extra coil pens (rental) -- $9.95 each
~ Add the V.I.P. TEXT CLUB -- $79 per month (that's $49 off our regular text club price!)

~ Online signup form – people can join the Email Club from an HTML form we'll create which will send the names &
email addresses directly to us:
- hosted on your website – one-time creation fee of $19.95 (we'll provide your webmaster with HTML coding)
- hosted on our website – one-time creation fee of $12.95 (if you don't have a website, we'll create the form
and host it on a dedicated page on our website and give you the link you can share with your customers)
plus ...
ONLINE SIGNUP MANAGEMENT -- $15 PER MONTH
* Members signing up online will be combined with offline signup members

Need a new website or blog? We can provide that service too!
Hire us to also create or revamp your website or blog and you'll get a discount on your V.I.P. Email
Club that month!


Why not try us for a month or two? Remember, commercial email returned a whopping $43.62 for every dollar spent on it in 2009. That's a 4,362% Return On Investment ... three to six times better than offline marketing! Print advertising will cost you several hundred dollars per month and you generally cannot purchase just one month, you have to sign on for 3-12 months with the advertiser, which translates into thousands of dollars. (And you don't even know if it will be successful.) With our "V.I.P. EMAIL CLUB", there is no long term commitment -- just pay as you go until you want to stop. Use it in conjunction with or instead of other forms of advertising ... any special offers you've advertised (newspaper, local coupon books, radio, TV) will do exponentially better when sent directly to people who have already purchased from you. These email offers will contain more detail, and cost so much less. You're just not going to find a better deal than what we're offering you.
Contact us for a free consultation, we'd love to brainstorm with you and tailor this service to your exact needs. For LESS per day than what you'd pay a minimum wage employee for one hour, you can have a fully operational email club that works all day long without any effort on your part.


== For businesses not yet in service, this online price list is the most current and supersedes any previously advertised prices. ==

To supercharge your marketing efforts, we suggest adding our V.I.P. Text Club to your service.