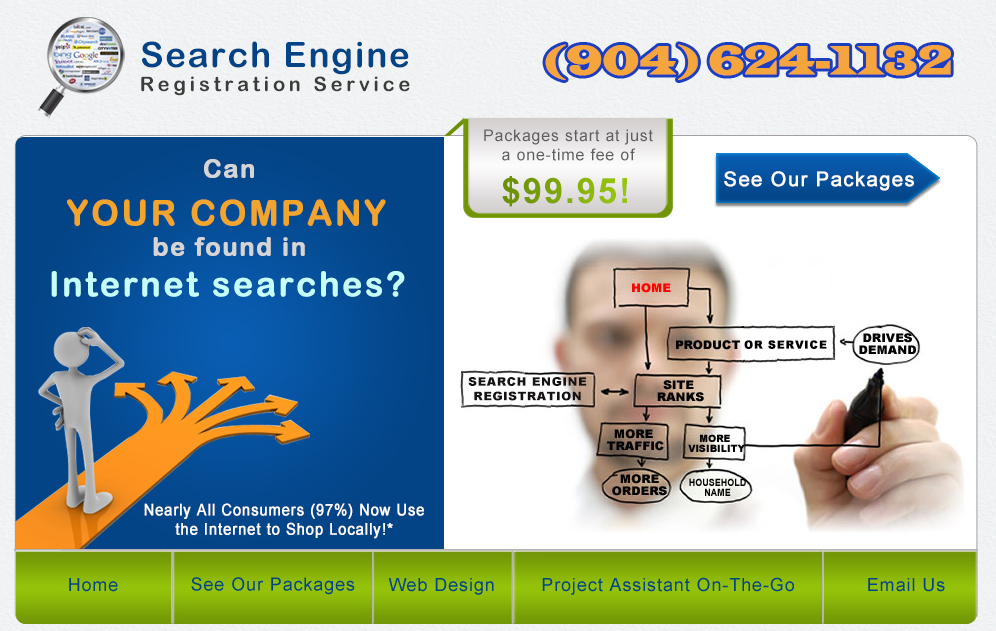 | | |
| --- | --- |
| The internet is the Information Superhighway Ö so improve the visibility of your company, your website, your restaurant menu and/or your Facebook page with our online registration service. Think about it: would you open a great store in the middle of the desert and just hope customers will find you out there? NO! Then why would your company on this planet or your website in the middle of vast cyberspace get noticed unless you did some things to make it visible? | |
| | |
| --- | --- |
| | |
| | Our online registration service is a valuable resource to help customers find your business. We will: |
| | |
| | Generate popular keywords and phrases your potential customers may use when they perform an online search. |
| | (If you don't have a website) Register your company along with keywords, descriptions, categories and other "signposts" with 5 of the top local search engines and online directories. |
| | (If you have a website or Facebook page) Register your company (and website or Facebook page) along with keywords, descriptions, categories and other "signposts" with either 45 or 350 search engines and online directories and either 5 or 75 local area online business directories and online phone books |
| | NEW for restaurants ... let us circulate your menu online! Keep up with or outshine your competitors by having your menu show up in online searches. If your restaurant menu is not already on your website, for an upgraded price we can digitize it and even host it online (if needed). Ask for details. (Your menu will substitute for your website or Facebook page. If you would like us to register one or both of those too, ask about our special discounted pricing.) |
| | And, as a nice bonus result of these registrations, your listing will also show in some extra online phonebooks. |
| | A report will be emailed to you listing exactly which search engines & directories we submitted your data to. |
| | |

Are new start-up businesses
.

Have a new website or Facebook page
.

Need updated contact information published to the web
(recently moved, changed phone numbers, etc.)
.

Want to gain greater exposure for their website or Facebook page
.

Donít yet have a website but want their business to show up in
online phone books & directories
.

Are
restaurants
wanting their menus to show up in online searches
so they can draw in hungry customers
We've made it easy for you. Simply click the ORDER NOW button to fill out our registration/order form.
Then go to our secure online payment area to pay by PayPal, Visa, MasterCard, Discover, or American Express.
If you prefer to pay by check or money order, make it payable to Deborah McGeorge and send to the address below.

Within 7 to 9 business days of receiving your order form and payment, we'll send you a
report of which search engines and directories we submitted your data to.


CLICK HERE
to see what other business/marketing services we can offer your company! (There are over 30.)
Copyright 2012. All rights reserved by Deborah McGeorge: Project Assistant On-The-Go