WARNING!
Youíre probably paying too much
to have your office cleaned!



If your employees run the vacuum for you, you could be paying too much in terms of employee satisfaction. Most complain about having to add "trash duty" to their job descriptions. (They'll do it, but they won't be happy.) And if you currently use a janitorial service, chances are your company checkbook is paying the ultimate price (youíre getting a little work done for a lot of money.)

The husband and wife team operating as FIRST COAST CLEANERS is the most affordable alternative to this dilemma ó Jody and Debbie McGeorge are dedicated to working within your budgetary restrictions while offering uncompromising service. We always strive to provide professional, dependable service that meets the needs of our customers.

Since there are dozens of cleaning companies in St. Augustine, why should

FIRST COAST CLEANERS be your first choice?



A clean office will reflect the professionalism expected by your clientele.

Think very carefully about something:
If cleaning is neglected, anyone who sees your environment canít help but wonder this about your company: ďIf they don't care about how their office looks, how could they possibly care about me and my ___________? (Insert type of client account on that line.) Won't they neglect me too?"
What level of cleanliness will they find when they visit the offices of your competitors?
Jody and Debbie are prepared to work with you to establish a standard of cleanliness that will ensure a sanitary and attractive environment for people who work in and visit your facility. We offer maintenance programs in the range of once per month to six days per week and let you decide how much or how little you would like us to do.
Yes, we do windows -- either as a package deal with your office cleaning or as a stand-alone service.

A new feature we offer is litter removal ... we'll regularly comb your parking lot and property for litter (including cigarette butts) and make sure the first impression your customers receive will be a positive one.

We are also available for cleaning empty homes after move-out and model homes.
Our business philosophy is simple: we provide an honest, knowledgeable, straightforward approach to your cleaning needs. Our commitment is to provide quality service, on time, at

affordable prices in a spirit of partnership, clear communication, and strong moral ethics. Our reputation depends upon it. Click here to learn more about us.

Call

(904) 797-7705 or email our office to set up an appointment to receive a FREE building inspection to help determine if your cleaning needs are being fulfilled by your current arrangement. By the way, our prices simply canít be beat -- our clients are thrilled!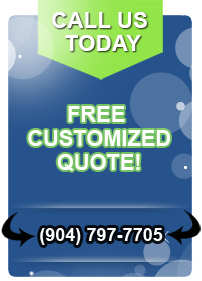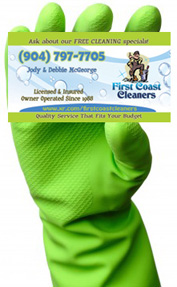 CLICK HERE to learn more about First Coast Cleaners and to read client testimonials
We also offer a host of other
business services for your company
as a
Project Assistant On-the-Go
.

Scan this QR code with your Smartphone to download our contact
info into your address book!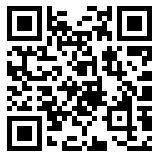 Or click here.