Limited Edition
Bronze Bust of sea captain
Hugh Mitchell

Click here to add this page to your Bookmarks

other sculptures:
John F. Kennedy (JFK) | Ronald Reagan | Albert Einstein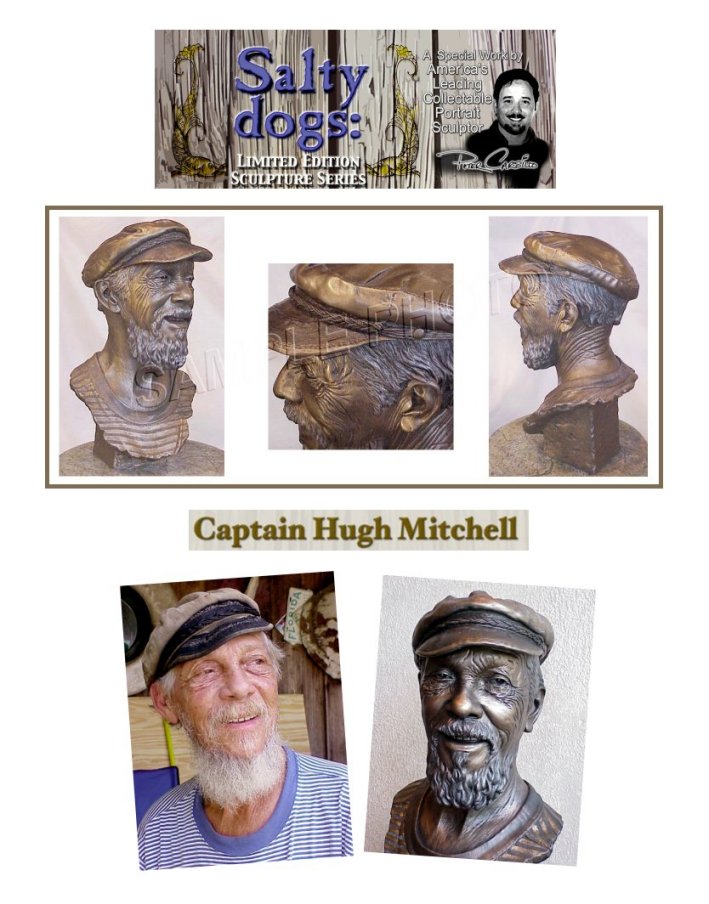 Perfect for the nautical art collector, this UNCIRCULATED Life Size Cold-Cast Bronze sculpture is limited to only 1,000 castings. Your brand new bronze bust of Captain Hugh Mitchell comes with its own numbered Certificate of Authenticity signed by the artist. This creation is part of the American Saviors Fine Sculpture Series and is being offered through a very special arrangement with the sculptor's company. The creator, Peter Carsillo, is an exceptionally talented sculptor nationally renowned for his work – he is known as America's leading collectible portrait sculptor. The photos give you a good idea of the magnificence of this piece and how stunning a replica of "the real thing" it is. Look at the incredible detail the artist has been able to achieve in this life-size bust. (The circular base you see in the photo is not part of the bust, it's just the pedestal on which this bust is displayed.) It measures 24" in circumference, 10" at the widest point, and 17" tall. This bust you are bidding on has never been sold, it is brand new in absolutely perfect condition.

Captain Hugh Mitchell is a Canadian sea captain whose adventures have taken him around the world numerous times. When Hurricane Hugo was poised to strike the Eastern Seaboard of the United States near Charleston, South Carolina, conflicting weather reports sent Captain Hugh headlong into the storm on the Intracoastal Waterway south of Charleston. His ship breaking up in the fierce winds and pounding waves, this courageous man made it to shore where he spent the remainder of the night LASHED TO A TREE to ride out the storm! He has lived through 13 hurricanes and has lost 2 vessels to shipwreck. Today Captain Hugh Mitchell can usually be found holding court on the docks of Fish Island Marina in St. Augustine, Florida. This bronze sculpture will certainly be a conversation piece no matter where you decide to display it. It captures the essence of life on the high seas.

This bust has not yet been appraised but our SMALLER (8 pound) Ronald Reagan and John F. Kennedy busts have been independently appraised at $1,500.00 and $1,625.00 respectively ... this LIFE SIZE sculpture is sure to be valued at much more than $3,000. Click here for YOUR special price today.

Don't miss your opportunity to own this truly unique handcrafted work of art
at such a reasonable price!
Many other "bronze" sculptures being sold elsewhere are actually merely alabaster (plaster) or other materials painted to look bronze. The sculptures we offer are cold-cast, containing a majority proportion of bronze filings and bronze powder ... making this bronze bust affordable, of high quality, and able to endure for generations. Each sculpture is individually hand finished with a subtle patina and weighs approximately 30 pounds.

Your Limited Edition bronze sculpture of Captain Hugh Mitchell in absolutely perfect condition will be carefully packaged in form-fitted foam and fully insured for safe delivery.

Also, did you know that you can commission this very talented sculptor to create an original portrait bust of just about anyone? Contact us about this incredibly valuable, unique service.
$779.95
(Florida residents add 6% sales tax)

Shipping, handling, insurance, confirmation --
anywhere in the 48 states:
$69.95 per sculpture

Outside the continental USA:
contact us for a shipping quote

Would you like to earn a Finder's Fee / Affiliate Commission
for bringing us a customer for this sculpture?
Contact us for details
E-MAIL THIS PAGE TO A FRIEND!
Enter recipient's e-mail:


Be sure to see our other sculptures:
Albert Einstein
Ronald Reagan
John F. Kennedy (JFK)