Auto Use Log for Business Tax Purposes
A handy way to keep track of tax deductible business expenses … vehicle mileage, operating expenses, etc. 8 ½" x 11".
Independent Contractor Agreement #F-30
Outlines separation, tax responsibilities, Worker's Comp, and other essentials you need when hiring a subcontractor. 8 ¼" x 11".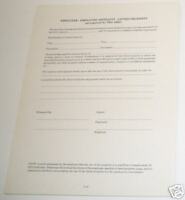 Employer-Employee Affidavit -- Listed Property (as required by TRA 1984) #F-28
Outlines use of company assets by an employee, specifiying its usage, duties of employee, circumstances and facts necessitating the use of the listed property, etc. 8 ½" x 11".